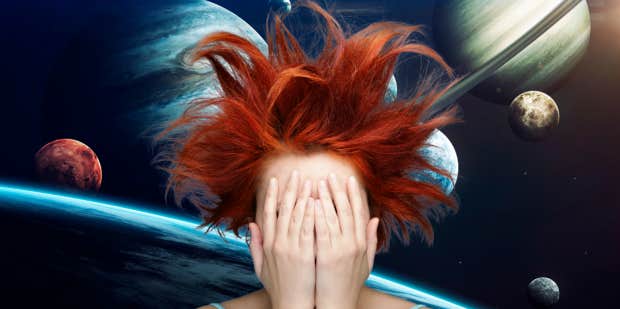 Some of us might need to be on guard during this day, June 4, 2023, because the transit visiting us will make everything in our lives seem essential, fragile and way too sensitive a topic for many of us to handle. We are super sensitive today, and that is because Moon square Neptune stimulates that part of our brain that makes us feel on edge, nervous, and even a touch paranoid.
We think we are right about our gut feelings, and while we may very be correct, we may also take those feelings out of hand, or rather, blow them up to an absurd degree. It's a very human day, filled with human foibles and faults, and while we will get through it unscathed, certain zodiac signs may need to be forewarned. Today will be rough … in my mind, so be prepared. En guard!
Another potential problem with today is that the transit of Moon square Neptune tends to work around social gatherings, which might imply that we must stay away from social media to avoid misreading anything. Today is very much when we get offended by something we read, and if we're offended enough, we might respond equally as offensively. The kicker with Moon square Neptune is that we feel this way NOW, but we might not feel this way tomorrow.
For the three zodiac signs that will take this transit to heart, get ready for a lot of armchair activism and online nonsense spewing. Today we rule the internet, and tomorrow, all we want to do is get on the first rocket for another planet.
So, if you're a fighter, you'll fight today. If you're a lover, you'll fight today. Get the point? We aren't satisfied at face value during Moon square Neptune. We imagine everything is worse and act accordingly. Nothing is as wrong as it seems on June 4, 2023. we make it worse than it is, and certain zodiac signs will take Moon square Neptune as a green light for being overly sensitive and … annoying.
1. Taurus
(April 20 – May 20)
If you need to stand up for yourself and defend whatever you feel is being threatened, then on June 4, 2023, you will do what you think is right. You are never the person who just sits back and takes it. You always have a fight in you, and while you don't like to take that fight out for just any ol' reason, during Moon square Neptune, you'll suddenly think of yourself as THE ONE who must stand up for the people … whoever they are.
You may be too lazy tomorrow to continue this quest, but during sensitive Moon square Neptune, you'll be catering to your every last fantasy. You feel as though you are important and that you won't allow anyone to contradict you. What you really are today is overly sensitive and a bit dramatic. Your ego is on fire, but knowing you, it'll be fully chill tomorrow.
2. Cancer
(June 21 – July 22)
You probably weren't in the mood to do a mental overhaul of your feelings today, but what else are transits like Moon square Neptune for, if not to unravel your world and bring out your hyper-sensitive side? June 4, 2023, will make you feel like you've been wronged … by life itself. Right, nothing too small or pin-pointable; nope … today, we're blaming LIFE for our problems, Cancer.
While you feel that this is temporary in your gut, having Moon square Neptune lingering around your atmosphere makes you feel that everything is being taken away from you. What's worse is that you'll probably take out some of your frustrations on social media which will end up with you wanting to hide for a month. You cannot keep it calm today, Cancer, because Moon square Neptune unnerves you at the very core of your being.
3. Pisces
(February 19 – March 20)
Related Stories From YourTango:
Tears will flow today, Pisces, and so will your need to cover up your face, as even you notice that you might be putting in on a little too much. Yes, you feel overwhelmed, and with Moon square Neptune at the helm, things like 'calm' are not in your vocabulary for the day. This transit has you feeling like popped corn in boiling oil; you just can't sit still.
You are nervous and don't know where to place your energy, so you will probably open your computer or turn to your phone for entertainment and distraction. There you will find something so offensive that you feel only you can right this miserable wrong, and what will happen is that you will be sucked into an anonymous online battle that needs really alleviates your stress anyway. This day could be helped with repetitive work: knitting, crocheting and even game playing. Look to repetition for relaxation today, Pisces.
Ruby Miranda interprets I Ching, Tarot, Runes, and Astrology. She gives private readings and has worked as an intuitive reader for over 20 years.