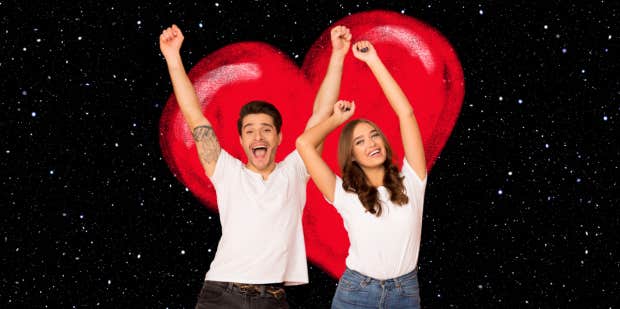 It's the beginning of the summer in some people's minds, and so many of us will be holding up the Pride flag to show our solidarity because love is love, and on this day, during the interestingly placed 'Moon opposite Jupiter,' we will get to see how love will rise above, despite the obstacles.
When the Moon is in opposition to Jupiter, we feel as though we have many options to choose from; Jupiter is vast and offers much in terms of positive energy, but when placed in opposition to the Moon, what comes up is the idea of choice. With so much to choose from, will we make the right decision? Will we let ourselves be loving to others, or will we fall behind?
What makes for luck in love for three zodiac signs on this first day of June is all about how open we are to the choices of others, and that makes a great deal of sense during times like this. Love is love and we who will experience the very best of this day will see no reason as to why we should get in the way. Love is love, and on this day, zodiac signs Leo, Libra, and Sagittarius will find that they are nothing if they are not supportive of other people's choices in love and in romance.
It is important for us to live and let live; Moon opposite Jupiter is in opposition for a reason and that is to show us how hard life can be when we are not allowed to be who we are. On this first day of June, let us leave ourselves out of it; let's get out of the way of others so that they may find their true loves. So many people have fought so hard to be here today, to stand in peace and in love; let's use that brilliant Jupiter energy to clear the path. Let's show the world that we are loving people. Who's in?
Three zodiac signs who are luckiest in love on June 1, 2023:
1. Leo
(July 23 – August 22)
If you have to get up on a stage today to shout your love to the world, then you'll do just that because, on June 1, you are just not in the mood to be stopped. You feel as though you've earned your moment in the sun, and if those proverbial spotlights are on you today, June 1, 2023, you will use your platform to promote love and tolerance. You have what it takes to show everyone around you that this world still has hope and that it's not being eaten by those who make hate their very existence.
You are a person of love and during Moon opposite Jupiter, you will show it and you will be believed. You are no fraud, Leo, and if you decide you want to be helpful, then you are the epitome of help, itself. June 1 brings out your best side, and the luck that you have in love today is the luck you bring to everyone you know by loving them and supporting them in who they love. A real hero, you!
2. Libra
(September 23 – October 22)
It's not always easy for you to take a side, but on this day, June 1, you will take the side of love and acceptance over hate and derision. It doesn't take much for you to smile, and when you do so, you light up the world, Libra. You are a joyous person today, and the transit, Moon opposite Jupiter, brings that out in you. All around you are people who doubt you and try to make you feel as though you are voiceless, and yet, you don't pay them any mind, because, on June 1, the power of the Moon opposite Jupiter backs you up and lets you feel as though love really will win.
What makes you feel so lucky in love on this day is that you never let the 'bad guys' get to you, in fact, the noise of the haters seems to be more distant by the minute. You honor the feeling of love on this day as something precious and untouchable. You will not let anyone in your world be hurt; you are the force that protects and guides, and on this day, everyone loves you.
3. Sagittarius
(November 22 – December 21)
Related Stories From YourTango:
Live and let live has always been your motto, even if you're presently living in a world that wants to crush you for what you believe in. That's OK, haters will hate, it's their thing. But you are no hater; you are someone who will stand strong for the person you love and you will be proud to be their partner, no matter who they are.
As a fire sign, you are warrior-like and always 'at the ready' and you may even come to think of yourself as a poetic figure today; transit Moon opposite Jupiter will definitely open up that door for you. You'll want to rescue people and spare them the pain that those weaker than you may want to inflict. Just be yourself today, Sagittarius. You are a warrior of love and in your world, everyone is equal and worthy of being loved, honored — and accepted.