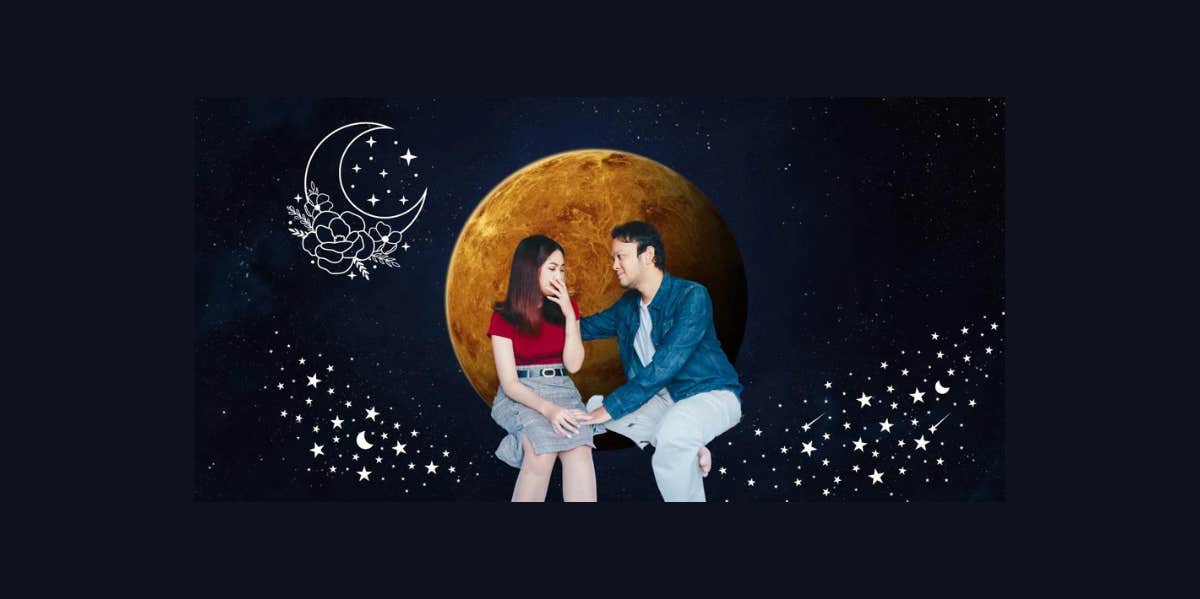 As a new zodiac season dawns on the horizon, it's important to allow yourself to transition fully into the brightness, energy and adventure that the zodiac sign of Sagittarius guarantees. Ralph Waldo Emerson said it best, "Leave yesterday behind."
You mustn't think that there isn't more to learn, but the heavy emotions of Scorpio Season won't serve you now. Instead, it's about garnering the greater meaning and letting yourself explore wherever the journey of love takes you.
Scorpio Season always brings a great deal of emotions to the surface as you use them as a catalyst for more profound change. While it is an intense season, it can also serve up its dose of challenges as you are asked to confront everything that you've had buried within. After moving through the last few weeks and the final eclipse in the Taurus and Scorpio cycle, you are now breathing in a new beginning.
In relationships, there can often be the desire for the need to draw a line in the sand and leave the past where it is. While you need to ensure you've processed, discussed and worked through any issues, the gift of a new beginning is the only one you and your partner can give yourselves. Sagittarius Season helps you to refocus on what matters, to feel a greater sense of acceptance for the divine timing in your life, and to turn your gaze toward the bright and beautiful future that is beckoning you.
This Sagittarius Season will be incredibly potent, as Mars and asteroid Ceres will also shift into this fire sign in the days following the Sun's entrance into the new and inspiring territory. While you may still feel the need to process recent events, don't be afraid to draw a line in the sand and allow yourself to become excited about life and your relationship again.
This is the moment when you are encouraged to remember why you chose this other person to move through life with as you focus more intently on quality time, passion, spontaneous adventures and impromptu trips.
While being an avid wanderer, Sagittarius craves a deep and meaningful spiritual bond, so allowing yourself time to have profound conversations can help you see a new beginning isn't just a choice but a decision that will enable you to enjoy life with the one that you love genuinely.
Important astrological dates for the week:
Wednesday, November 22
It's the start of Sagittarius Season, which means it's time to check how frequent flier miles you have so you can get to work planning an exciting and spontaneous romantic getaway. Sagittarius wants to travel, learn and experience as much as possible, so you will be drawn out of your emotional shell and into the vast, beautiful world to do just that. In your relationship, you will search for greater meaning in your connection, as Sagittarius will inspire you to hone in on the purpose and value your partner brings to your life. Sagittarius Season is all about heartfelt spiritual conversations, impromptu dates and seeking adventure within each moment.
Friday, November 24
Mars, the planet of action, ambition and personal drive, shifts into Sagittarius, heightening your desire for adventure and newness. If you've been feeling in a rut lately or haven't been able to get someone special off your mind, this is precisely the energy to shake things up and bring about positive developments. In Sagittarius, Mars wants to act and move ahead but also wants to explore and fully understand. While you want to enjoy your romantic connection, you also want to feel a deep spiritual bond with your partner as you crave a relationship unlike anything else you've ever experienced.
Saturday, November 25
Asteroid Ceres rules the feminine energy within yourself and the world, along with motherhood, intuition and unconditional love. As it moves into Sagittarius, you will feel yourself awakening within as desire to make a difference in the world for others and your partner's life. You will be able to find greater acceptance for whatever has served to bring you to this moment, and in those quiet spaces, you will feel a deeper connection to your inner self and romantic partner. This energy allows you to focus your energy on what you feel is called pursuing rather than anything that has previously occurred.
Love horoscopes for the last week of Scorpio season (and the start of Sagittarius season)
Aries
(March 21 – April 19)
Best Love Day: Saturday, November 25
Leading Energy: Ceres in Sagittarius, ruler of abundance
Use your forward-focused energy to surrender to the greater plan that the universe has more deeply. Sagittarius energy rules over matters of travel, expansion and abundance. As asteroid Ceres shifts into this fire sign, you will feel more connected to the world around you — and your partner. Instead of focusing on a specific romantic goal, just decide to bring more awareness to what the universe is trying to reveal to you.
Venus is in Libra now, which is drawing a focus to your romantic relationship, and with the influx of Sagittarius energy, that means you will be inspired to move in new and exciting directions. If it's not a new relationship you're seeking, then be sure to add some zest and excitement back into your connection so it can feel as if you're falling in love all over again with one another.
Taurus
(April 20 – May 20)
Best Love Day: Wednesday, November 22
Leading Energy: Sun in Sagittarius, ruler of romantic transformations
Change can be hard for anyone, especially as the transformation that is required is also within those areas of life that you consider part of your foundation. To receive the changes that are beginning to shift within your life means that you can also affect what the outcome will be. Sagittarius lends an energy of expansiveness and possibility to your romantic life as you start to see that everything may turn out better than you ever expected.
The Sun in Sagittarius creates a light of optimism that allows you to move through a transition in your romantic relationship fully. This isn't a break-up but instead a positive change that creates more opportunities for time together, connection and commitment. While changes can be scary, in this case, it's going to help deliver precisely what you've been hoping for. Remain open, try to continue to express your deepest desires, and in moments of challenges, remember to continue to lean into your partner.
Gemini
(May 21 – June 20)
Best Love Day: Friday, November 24
Leading Energy: Mars in Sagittarius, ruler of romance and love
While you may be trying to focus on multiple areas of your life, as Sagittarius Season begins, it really will be all about love. This fire sign rules matters of the heart for you, which means as Mars, Sun and Ceres all congregate here, you will feel a push to reconnect more deeply with your partner or pursue that person you can't help but think of throughout the day.
Mars is the planet that rules motivation but also passion. In Sagittarius, it's going to fuel you to go for whatever it is you desire most. Don't worry if your relationship seems to be a top priority right now. It hasn't always been that way this year, and you're in need of a period of absorbing into your little love bubble and remembering all the amazing parts of this connection. If you are still holding up any emotional walls, try to release them and most of all, listen to your heart, as you have an enormous capability for love, but you first need to give what you hope to receive.
Cancer
(June 21 – July 22)
Best Love Day: Saturday, November 25
Leading Energy: Ceres in Sagittarius, ruler of your house of well-being and peace
Let yourself tend to what you need right now, and you'll become a better partner. You are and will continue to be in the midst of profound change, though fortunately, next year looks much better than this was. Even in that, you need to continue to focus on your needs so that you will have the confidence and empowerment to know definitively that you'll never settle again for something that isn't in alignment with your truth.
Ceres is the asteroid that governs the phase of life, along with intuition, unconditional love and nurturing. In Sagittarius, it activates your sector of self-care and well-being, representing that right now, the best thing you can do is make sure you feel your best. If you're in a committed relationship, it doesn't mean you have to do it solo.
You can think of inviting your partner to a float spa or meditation class to focus on your well-being and provide an opportunity to create a different bond with each other. However, you need to care for yourself right now. Even if it takes you in a new and different direction, it is worth exploring right now as you commit more deeply to becoming someone that you love unconditionally.
Leo
(July 23 – August 22)
Best Love Day: Wednesday, November 22
Leading Energy: Sun in Sagittarius, ruler of your sector of joy and commitment
To fully commit to a relationship, you need first to see the value of what the connection brings to your life. This isn't about tit-for-tat or superficial energy but instead requires you to open up with honesty as you honor the profound connection and meaning of your relationship. You should never have to feel like you must convince yourself someone is right or that you are just fine by yourself — even if you are. Instead, this is the space to honor your desires and need for joy and connection with someone who just seems to make life more.
As the Sun shifts into Sagittarius, you will feel inspired to start prioritizing your happiness. This will also mean you will be thinking about the relationship that contributes to those positive feelings. This is an area of your life that also rules significant life commitments, so a proposal wouldn't be out of the question now if it helps you live in all the ways you've dreamed of.
Virgo
(August 23 – September 22)
Best Love Day: Friday, November 24
Leading Energy: Mars in Sagittarius, ruler of your domestic intimacy sector
You have focused a great deal of energy on finding gratitude for all you have instead of thinking about the next best thing that is ahead of you. Now that Mars shifts into Sagittarius, you will be inspired to begin to tend to the emotional roots of your relationship and home. Mars wants action and passion, and in Sagittarius, it means you are ready to build a more profound connection with your partner, purchase a home or start planning that romantic getaway you've been dreaming of.
Mars in Sagittarius wants to change, but it also needs to know there is a higher meaning to the relationship than simply just being housemates. Focus your time and energy on building up the unique aspects of your relationship while you reflect on what you hope will be brought to fruition in the future. While you've had to put dreams on the back burner for a while, now is the time to fully embrace them as you are feeling energized and ready to make the most of life together.
Libra
(September 23 – October 22)
Best Love Day: Saturday, November 25
Leading Energy: Ceres in Sagittarius, inspiring heartfelt communication
You might feel a little uneasy at sharing all you've been reflecting on and thinking about recently, but it is the best way to bring about a deeper bond within your relationship. Ceres helps to bring a loving, nurturing, accepting energy to the romantic conversations that you have with your partner. This can help you feel more secure in sharing your heart and in approaching any challenging topics that you'd like to discuss.
Because Ceres also rules motherhood, there may be important conversations around children, whether starting a family, those from a previous relationship or important family members. Remember, it's best if you first become certain of what you desire before talking with your partner so that you can ensure you're not just being agreeable but taking steps to create the life you want.
Scorpio
(October 23 – November 21)
Best Love Day: Wednesday, November 22
Leading Energy: Sun in Sagittarius, ruler of your house of self-worth
When you know you are worthy of more, you will then make the moves to receive it fully. You have done a great deal of work in this area of your life over the past few years, and if it was scary at times or you felt uncertain, you've continued to persist. You have always known that you deserved the world, and now, you are finally in the position to begin to create it.
As the Sun shifts into Sagittarius, you will feel the rays of confidence returning as you accept that if anything was lost while you healed and became your best self, then it was only that they were meant to be with you in your unhealed state. This allows you to raise the bar on who has access to you and what requirements you have for those in your life. Don't spend a minute worrying about whether someone will be in alignment with your desires, and rest easy in the confidence that it's just a matter of when.
Sagittarius
(November 22 – December 21)
Best Love Day: Friday, November 24
Leading Energy: Mars in Sagittarius, ruler of your passionate desires and truth
Your zodiac season and solar return is a powerful time for self-growth. The only thing you must be mindful of is not making it all about you. With your Sun and Mars both in your sign of Sagittarius, you can be very self-motivated right now to follow your heart, manifest your desires and live a wildly authentic life. You must remember you are one part of a partnership, so checking in with your partner and making sure they're on board with your new ideas will help save you from any relationship challenges later.
Sagittarius Season is always a hugely impactful time for you as you are able to trust yourself more and make the big moves that an amazing life requires. If you're in a connection, set weekly check-ins with your partner to discuss everything from holiday plans to what you are hoping to achieve in the new year. Along with putting some fun and adventure back into your relationship, this will help you from feeling disconnected or misunderstood by your partner. If you're single, you will shine more brightly than normal, so it's an incredible time to venture out and attract someone who wants to explore life as much as you do.
Related Stories From YourTango:
Capricorn
(December 22 – January 19)
Best Love Day: Saturday, November 23
Leading Energy: Ceres in Sagittarius, increasing intuition and prophetic dreams
Although you may not be known for being the most intuitive zodiac sign, you still have a deep connection with the universe and the spiritual world around you. When you can honor those dreams and ideas you have as a divine connection, then you also are able to live more in alignment with your inner desires. You have a huge heart and want only the best of everything for yourself and those you love, but to achieve it all, you must start listening to that inner voice.
Ceres rules over matters of nurturing, love and acceptance. In Sagittarius, Ceres helps you to tap more deeply into your intuition, whether it's about an existing connection in your life or a random idea to switch up your routine because you have a feeling something important is about to occur. Trust these little universe winks as a sign that you often know more than you give yourself credit for.
Aquarius
(January 20 – February 18)
Best Love Day: Wednesday, November 22
Leading Energy: Sun in Sagittarius, ruler of your house of wishes
Let yourself believe in anything being possible because it is. Instead of feeling limited by how life or your relationship may look in this moment, open your heart and let yourself create whatever it is you desire to live. You've done a lot of work in your relationship sector over the past few months, especially with Venus's retrograde in Leo activating this area for a long time. Because of that, you can now say you've created the relationship you've always wanted, but it doesn't mean there still aren't the small pieces of life to figure out.
The Sun in Sagittarius lights up your house of wishes, reminding you that a wish is actually an intention that goes directly to the universe. Don't tell yourself something isn't possible; instead, speak what is on your heart to the divine and your partner. It may be as simple as wishing you could spend more time together or quiet evenings in front of the fire. Let yourself wish for whatever you desire, no matter how small, because Sagittarius Season has arrived to make each one come true.
Pisces
(February 19 – March 20)
Best Love Day: Saturday, November 25
Leading Energy: Ceres in Sagittarius, ruler of your house of attraction
You often forget that you light up the lives of those around you simply by being yourself. While you are heavily in tune with the universe around you, with Saturn currently in your sign of Pisces, you have begun thinking that the only way to create what you want is to work for it effortlessly. Sagittarius represents your house of attraction, whereby by honoring your unique gifts and authentic spirit, you can simply attract all you desire into your life.
Right now, your power of attraction is high, and while you need to make sure that you are only allowing in those who are in alignment with your truth, this represents a beautiful time for new or existing relationships. If you and your partner have been together for some time, there may be a feeling that they just can't stay away from you, which can result in a deeper commitment. If you're single, it is like moths to a flame, where others are just picking up on you being a whole vibe. When you can truly see how unique you are, then you can also embrace more of the power of attraction as you smile and receive all that is meant for you.
Kate Rose is a writer, spiritual astrologist, relationship and life intuitive counselor, and retreat curator. For more of her work, visit her website.