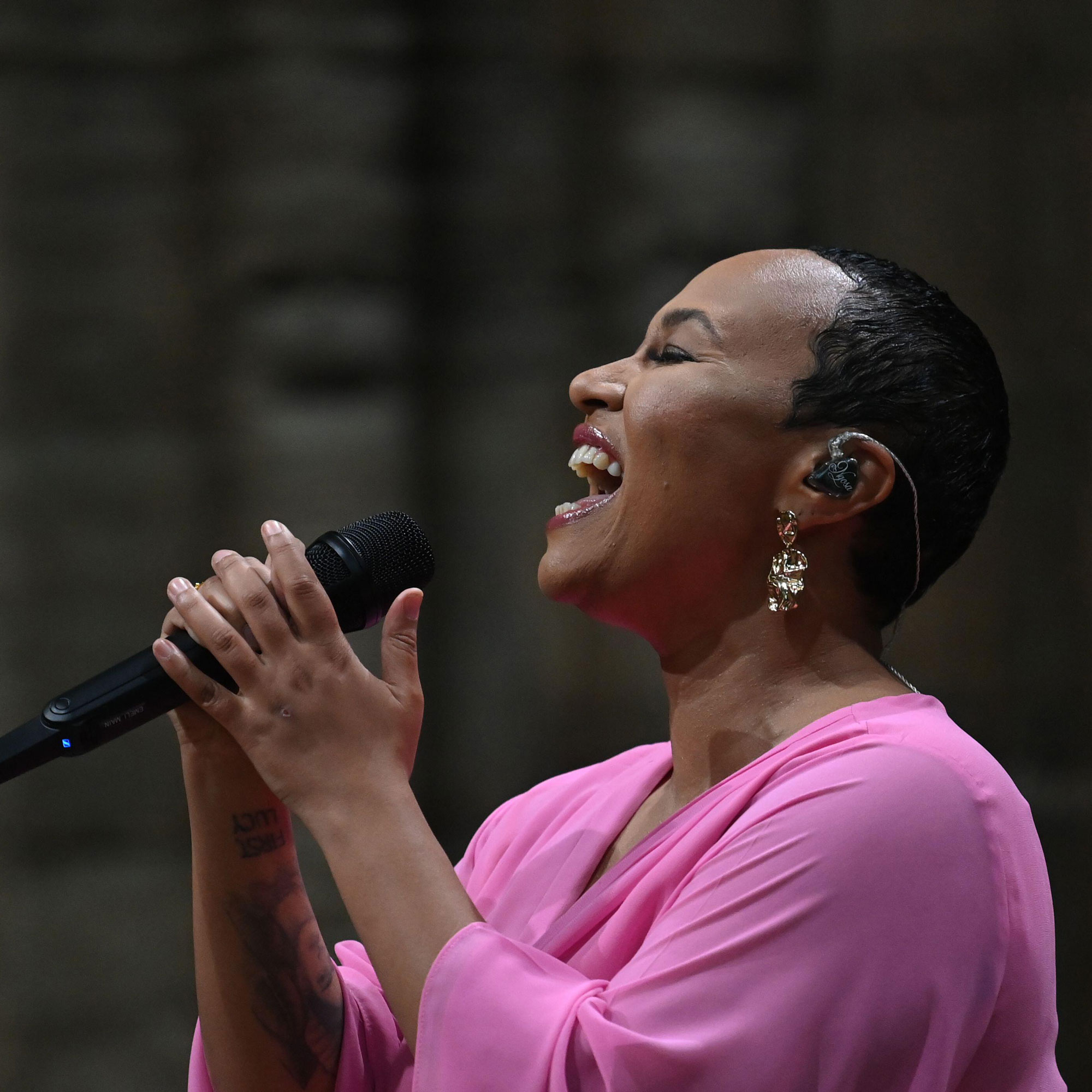 Singer songwriter Emeli Sandé lives in east London with her partner, classical pianist, Yoana Karemova.
What does Christmas mean to you?
I adore Christmas. For me, it's about being around family so I go back up to Aberdeenshire where my parents live.
Growing up in Scotland, we lived quite far away from the rest of our family in Cumbria so Christmas was usually just my mum, dad, me and my sister, who I shared a room with. We'd always wake up with excitement at 4am!
Back then I took that special close family time for granted but not now. That togetherness is so important.
Christmas is a beautiful opportunity to get together and really reflect on the year and be with those you hold dearest.
What's your favourite part of Christmas?
The build up, putting up the decorations two weeks beforehand and belting out Christmas songs over the month of December!
Growing up, I always listened to Mariah Carey's and Whitney Houston's Christmas albums and now sometimes I'll have a little gathering with friends at my home in London where we'll go through all the songs.
The night before Christmas, that magic hour, is so special and makes me feel like a kid again, when I was so excited about Santa coming. The best part of Christmas Day is the smell of stuffing in the oven.
It's the only time of the year that I have it and nobody else in the family likes it so mum gets it in just for me!
What part of Christmas do you dislike?
I like it all but every year I say I'm going to get more organised earlier on and every year I fail!
What Christmas tradition do you have every year?
An advent calendar. When I was younger, we were content with finding a picture behind the little door. Now I've slipped into buying chocolate advent calendars.
Do you have a favourite part of Christmas planning?
Buying presents. I make sure everyone receives things they don't have to pretend to like. My sister is into crystals so throughout the year I pay attention to which one she doesn't yet have.
I'll start buying presents in November, but I'm definitely also one of those people rushing around on Christmas Eve. I work better under pressure!
When do your decorations go up?
Two weeks beforehand. I'm a bit of a minimalist. At home in London I'll decorate the piano with some tinsel and put up a tree with traditional decorations that have been passed down through the family.
My mum still has the now tattered angel for the top of the tree that we've been using since I was little.
A new addition to the family is a huge inflatable reindeer called Daisy, which mum bought to sit at the top of the stairs!
How involved do you get in cooking?
Not very! My dad's the cook of the house and is quite a creative chef and a bit of a spice chemist in the kitchen so each year, we always have different flavours in the turkey. He's also a great gardener so mixes in his own kale to give Christmas dinner a different twist.
My sister is vegan so she'll cook ackee, a traditional Jamaican fruit, for breakfast. Me and mum just handle pudding and the dishwasher. I think that's a fair trade off!
Do you host any parties over Christmas?
Last year my partner Yoana and I had a New Year's party, which was awesome. It's nice getting back to London and inviting people over that we missed over Christmas.
It keeps that festive feeling going into the new year, a time of year I also love because it's so full of hope for what's to come.
Will you be doing anything different this Christmas?
My partner Yoana and I considered going abroad somewhere hot but I don't want to miss the Christmas magic in Britain so I'll be back in Scotland for a family get-together.
In rural Scotland, we usually get a bit of snow so it really feels like a proper Christmas. Mum and dad have a little hobbit hut in the garden so there's nothing better than huddling in there around an open fire, sipping a mulled wine. I go for about two weeks because over the festive period, the music industry really slows down so it's a good time to take a break..
Quick fire questions with Emeli Sandé
Decorations – traditional or modern? Traditional. The old ones are the best.
Tree – real or artificial? Artificial. Straight out from under the stairs!
Tree decorations – colour themed or a mix? It's a free-for-all. There's a lot of artistic licence.
Do you treat yourself to presents? Sometimes! I call it spreading the joy!
Stocking – yes or no? Sadly no, but if I do have children I'll bring them back into the picture.
What time is your Christmas meal? We plan for around 2pm but always end up eating around five-ish. Everyone underestimates the preparation!
Christmas food – turkey or not? Years ago, mum worked out that no one actually likes turkey, so my dad will also cook different meats and some vegetarian dishes as well. Christmas dinner is open to interpretation each year.
Emeli's new album How Were We To Know is out now.
She will also be appearing on Mary Berry's Highland Christmas on BBC One over the holidays.
As told to Gemma Calvert