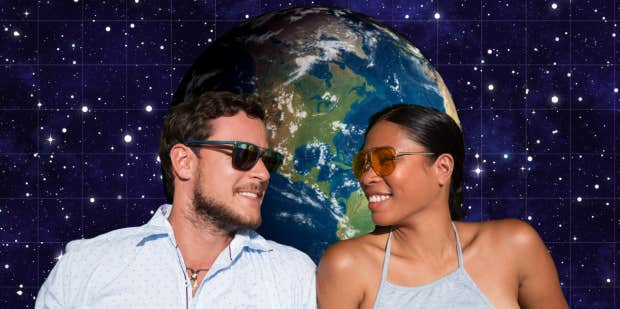 Three zodiac signs have the best horoscopes on June 5, 2023, with the Sun in Gemini and the Moon in Sagittarius entering Capricorn. But before we get to those, here's the message of the day for everyone.
If you are happy where you are in life, you don't need to prove anything to anyone. Some of you have jealous family members, or peers who disapprove of your life or lifestyle. Trust your path. Only you can know what's right for you. Others will always give you advice that works best for them. They don't want to mislead you, but this difference in perspective, unfortunately, does end up being misleading. You have to be the captain of your own ship at this time.
Mercury conjunct Uranus is the main energy today. So if you suddenly feel the urge to burst into a song like a Disney Princess or feel like your mind is running extra fast (in a good way), this is why. Earth signs will feel this energy more strongly. So be prepared to raise some eyebrows — whether in a good way or bad depends completely on what you say and do — because people are not used to you being so spontaneous or quick. They will wonder if you are possessed by an air spirit! Now let's focus on the three zodiac signs with the best horoscopes on June 5, 2023.
Three zodiac signs with the best horoscopes on June 5, 2023:
1. Aries
(March 21 – April 19)
Aries, if you have a cultural festival coming up soon, today's the day to start planning ahead. Some of you may want to block off your calendar for a visit home or elsewhere. Chiron in Aries is forming some beautiful connections with Pallas in Leo and Sun in Gemini. So if you feel extra pious today or more spiritual than usual, this is why. Some of you may even want to visit a temple, church, or holy place today to let this good energy seep into your life. But you don't have to do this if your schedule is very busy. It must be done with the right intentions. You can alternatively light some incense at home or bring out those aroma candles.
Also, if you have a crush on someone or find yourself inexplicably drawn to any individual, stop yourself for a few seconds and shake off the trance. Neptune in Pisces is squaring off with Moon in Capricorn and Sun in Gemini, and this will indirectly influence your mood and mind today. Don't let it make a fool out of you. If you haven't tied up loose ends with anyone or anything in your life, today's also a great day to do that.
2. Virgo
(August 23 – September 22)
Virgo, today's a great day for financial ventures and reapings. This will mean different things to all of you. For some, you are trying to close a real estate deal. The energy is great for that. For others, you want to invest your money in a lucrative venture – maybe as an angel investor, or in the stock market, or somewhere else. You will feel primed to take action.
Just be aware that Neptune is forming some weird connections with some major planets in the sky right now. Its beneficial bonds with Uranus, Mercury, and Pluto can lull you into getting scammed easily by someone you consider an authority. It's because Neptune is also squaring off with Moon and the Sun right now. So your goals and this person's goals are not the same. Consider your options before you take any steps.
Also, if you have been putting off communicating with your mother, don't be so hard on yourself. Today is better suited for a journaling exercise around your feelings about your mother or the maternal archetype in society. You need to clear your head first.
3. Leo
(July 23 – August 22)
Leo, the day will be extra good for you with some surprises thrown in the mix to keep you on your toes. Of course, with Moon in Capricorn quincunx Leo, the surprise will show up in a way that will not be totally appealing to you but which will still bring you good stuff in the near future. It may even be an ex or someone else from your past who shows up with an unexpected opportunity. It will send your mind spinning when it happens.
Related Stories From YourTango:
Mars in Leo opposite Pluto is still laying heavy on you. And with Mars square Jupiter and North Node, you may feel your rewards are being withheld for unsavory reasons. It's a power play for most of you. But you already know this.
You will benefit from a salt bath to cleanse away negative energies from your aura. You may even want to line the threshold of your home with salt to ward off toxic energies and spirits.
Valeria Black is a tarot reader and astrologer, with a dash of wicked humor on the side. Follow her on Instagram for more star-blessed intrigues and mysteries.