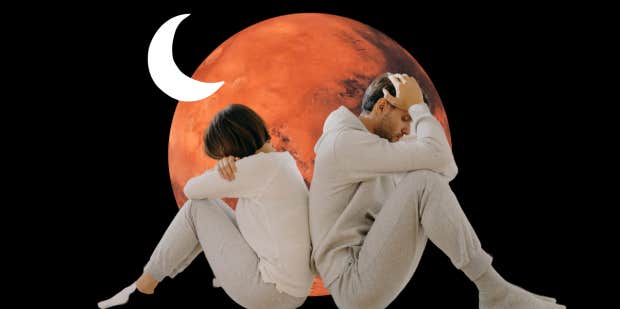 On May 29, 2023, three zodiac signs want a love that they can't have. Why? We will have a lunar transit that may stimulate sorrowful longing within us. For some, we are used to it. "You can't always get what you want." Yeah, yeah, we get it. And yet, the heart wants what the heart wants, and for many of us, we know all too well that we can't and won't be getting what we want.
Not now, not in the lifetime, not ever. Some of us are resolute in this thinking; it no longer bothers us. We may have lost an opportunity for love, or we may have simply lost that love itself. We deal with it, as that is how life goes. We just deal with it, and somehow, we greet another day like soldiers.
The transit of Moon sextile Mars may get in our way today, which will put something in our path of vision that reminds us that we are no longer in the game for love. That will hit us individually. Some will feel a blast of sadness, some anger, and some may even feel as if they want another go-round on the funhouse ride of love, knowing fully well that the gates have shut down on them.
Moon sextile Mars puts us in touch with our limitations and love. That's just pure pain. Nobody wants to know or thinks they no longer have a chance at love. Nobody wants to love someone that will never love them back.
The three zodiac signs that will feel that they are no longer welcome in the arena of love are the three zodiac signs that are the biggest dreamers. These zodiac signs take it to the limit when it comes to fantasy and hope, and yet, when reality knocks, during Moon sextile Mars, on May 29, they will come to understand that it's better to stick with the fantasy, as reality has no place for them in love.
Three zodiac signs want love they can't have on May 29:
1. Gemini
(May 21 – June 20)
You've never really wanted to admit to the idea that you might not get the love you want in this life, or rather, you might not admit it out loud, but inside, this is how you truly feel, Gemini. It doesn't make you feel any better when Moon-sextile Mars is in the sky, drumming the point home. Then again, this is your life, and you've always lived in a state of unrequited love. It's not exactly uncommon, either, as you may very well know. Still, that doesn't make it better.
You aren't miserable because of it. You're just … resigned, and that takes energy away from you. You try to remain positive and even hopeful because you've always imagined yourself as this great lover who shows up and brings tears of joy to whomever it is that you love and adore. You've been loved, but it's never been the love that's lasted. And so, on May 29, once again, you will feel shut out by love as you love someone who doesn't acknowledge you.
2. Sagittarius
(November 22 – December 21)
The love you want is the love that belongs to an era gone by, and that is both private and sad for you, Sagittarius. You have never once known what it's like to receive the love you give, and even though you've been loved in your lifetime, you never allowed yourself to receive the love you wanted. You settled, and you know it, and that settling ended up with you living a lie. You wanted something else … some ONE else, and you still do.
You spend an exorbitant amount of time fantasizing about what it would be like to experience the love and romance that goes on inside your mind, but those days are gone now. During Moon sextile Mars, you'll realize that you still have the same strength and ardor but are no longer made of the 'right stuff'. You can deal with this, and you will, because you have been for a long time.
3. Aquarius
(January 20 – February 18)
Related Stories From YourTango:
The last thing you want to own up to is that the person you've been madly in love with for years is someone who … doesn't exist. They exist as if they are alive and well and living on planet Earth, but they are not in your life. They are a fantasy lover, and you've always thought that if you concentrated hard enough on them, they would feel your presence and sense your love … which is real.
You really do love this person, but transits like Moon sextile Mars put that love into perspective, which is exactly what you don't want, on May 29. You don't want your fantasy interrupted, and generally, you can keep it going, but this transit LIKES to interrupt the nicest of fantasies with a hit of awful reality. You don't want to know that you can't have this love, yet the knowledge will linger throughout the day for you, Aquarius.
More for You:
Ruby Miranda interprets I Ching, Tarot, Runes, and Astrology. She gives private readings and has worked as an intuitive reader for over 20 years.