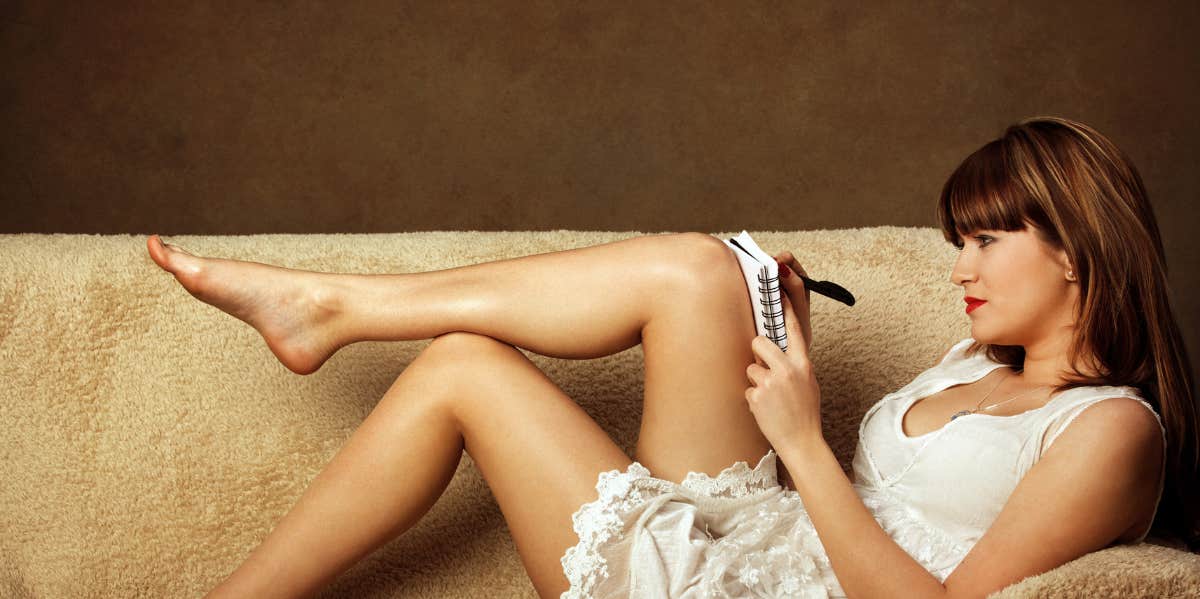 Here's what each zodiac sign can manifest the week of November 20, the Moon enters Pisces, allowing us some time to process the month and year thus far and observe the world around us.
We might find that we have especially active dreams that can bring insight into our subconscious and allow for greater creativity in solving our problems. This is a great time to incorporate dream journaling into your daily practice.
Dream journaling can take many forms but the one thing you want to avoid is spending too much time researching what everything means. Why is that? Because your subconscious made the dream and therefore, you already know what it means.
You just have to write it down now. The most important thing to take from your dreams is how you feel when you wake up. Then, break it down by how each element of the dream made you feel. Your dreams actually can hold clues on how close you are to achieving that which you manifest!
Then, on November 21, Moon square Mercury disrupts the calm aura by making us too sensitive, too reactive and overall antsy. It doesn't help that there are likely tech problems with all our precious electronic devices and frequent miscommunication.
Yikes! Take this time to hone your patience and think before making rash decisions. On November 22, The Sun enters Sagittarius, allowing us to ponder our purpose as we set into deep autumn and feel the chilly atmosphere creep in everywhere. An urge to do intense research activates our curiosity and can be used to fight the winter blues.
On November 24, the Moon enters Taurus, returning a calming energy that brings warmth, stability and security. Alongside Moon Sextile Vesta on November 25, that allows us to act on the new and returning fall activities and routines that ground us.
This is a great time to tend to our health and the more "mundane" activities that keep our lives afloat. We end on November 26 with the Moon in Gemini, which sparks new ideas, perhaps for fun winter activities and vacations, but we must be practical about what we can and can not do during the busiest time of the year.
What your zodiac sign can start manifesting this week using a journal:
Aries
Manifest: Protection
Aries, loyalty is everything to you. As such, you find it hard to rely on others because, ultimately, who can you trust? Yourself. Remember, no man is an Island. As humans, we are social beings that are ultimately interdependent.
Journal Prompt: Who has helped guide you thus far? When you need someone to lean on, who have you been able to rely on? Name all the spirit or corporeal guides in your life that can help you in the areas you need. Who has protected you in the past and what are current signs that you are being kept from harm?
Taurus
Manifest: Recovery
Some resentment sits in your heart at this time. Be it co-workers who aren't doing their part as housemates that make life worse. You've kept it all pushed down but these matters have risen to the top. You will find inner peace after you address each and every one of these issues. Get it all off your chest.
Journal Prompt: Gain recovery by scripting your ideal life and how you relate to others in your day. Start with tomorrow. Tomorrow, you ask for assistance and receive it. Tomorrow, you calmly explain how you feel and what needs aren't being met. Who says what, and how do they respond? Write it all out.
Gemini
Manifest: Healthy boundaries
Challenges and learning experiences are in your very near future. A lot of things are brewing at the moment and it can prove to be a bit overwhelming. Take this time to lean on others if you need to. You get more done with two!
Journal Prompt: Start with two life areas that have recently gotten out of control. What are those two areas (think, social, health, familial, work-related) and how can you regain a small bit for yourself? Start and think small, like leaving 5 minutes early for work or taking time to decompress before facing your family every day.
Cancer
Manifest: Desire
Your work, health and routines are all heavily affected this week. There are so many changes you're making all at once and they will all prove extremely beneficial to your life and work. You'll find that a lot of mental energy is being split in many directions. Make sure to hone in on a few at a time so as not to overwhelm yourself.
Journal Prompt: How can you move from monotony and spark passion into your life? What lies dormant that you can renew for fiery energy?
Leo
Manifest: Happiness
The Sun and Mars enter your solar fifth house this week. This means it's time for change. Good change to be sure – new romantic opportunities, hobbies and fun pursuits lie in the near future. Happiness is on its way.
Journal Prompt: You hold the key to your happiness. What singular thing can you focus on this week to alleviate a persistent pain in your life? What positive moments do you anticipate for the holiday season?
Virgo
Manifest: Strength during an immense change
Your moods are ever-changing and the best way to keep things under control is to go into super list mode. Things are getting hectic fast now that the holiday season is in full swing and making a plan (and a plan for the plan) might just be your best bet to stay sane through it all.
Journal Prompt: List 3 goals you have for this season of your life and each goal, write down 3 ways you can make it easier on yourself to achieve that goal.
Libra
Manifest: Balance
The Sun and Mars enter the communications sector midweek. As such, you have a bunch of things to do, look up and research. Take it easy, Libra! The internet isn't going anywhere. All the information you need is at your fingertips.
Journal Prompt: Stephen Covey's to-do system speaks about your relative life roles and ordering your tasks according to those roles. Take a note from him and list all the roles you have in your life. For example: gamer, mother, girlfriend, therapy patient, etc., what do all these roles demand from you on a weekly basis? Getting clarity on what each asks of you will make it easier to find balance in your life.
Scorpio
Manifest: Creativity
The holidays are an uneasy time for you because of the undue stress it puts on your wallet. So, this week, you're focused on getting your finances under control. You're talking budgets, budget apps and watching every financial transaction. This is all great! Just don't forget to enjoy the moment. The holidays are all about fun and family, right?
Journal Prompt: How can you change your daily routine to allow for more spontaneity? Can you change your commute, add an accessory to your clothing or contact an old friend during a break?
Sagittarius
Manifest: Gratitude
Sagittarius, because you are genuinely beloved and very gregarious, you are one of the zodiac signs most likely to get the most presents, invitations to parties and attention this holiday season. Make sure that you are the life of the party ( I don't even need to remind you) because of your killer personality and because you are kind. Kindness starts small. It's mostly being thankful and sharing appreciation for all that you have.
Journal Prompt: Make a small, detailed and to-the-point gratitude list. You can make your gratitude journaling or just add it to your daily log. Use specific statements that resonate with you, like
1. I am grateful for my meaningful relationship with x.
2. I am grateful my x has healed.
3. I am grateful for (little traffic today, on-time buses)
The more specific and more concise, the better.
Related Stories From YourTango:
Capricorn
Manifest: Healing
Your privacy sector gets invaded by the Sun and Mars midweek. This means it's time to strategize and go into hibernation mode. No one wants the world in their personal affairs and the best way to mitigate that is to literally not be visible, stay home, Cap!
Journal Prompt: What patterns have been showing up in your life consistently? Pick a few themes like x, y, z., and note them on a calendar planner when they occur in your life. Ask yourself how being in the patterns makes you feel. Do they bring up something negative for you and if so, what?
Aquarius
Manifest: Routines
You are thrust into a leadership role this week, which will put all your organizational methods under scrutiny. How are you handling your subordinates, responsibilities and life roles? It's time to get organized and make sure everything (especially you) is under control.
Journal Prompt: What are the current routines in your life and how might you tweak them to fit your natural cycles? Begin with what cycles already exist in your life, like your typical sleep/rest cycle, your moon cycle or a work cycle.
Pisces
Manifest: Divine timing
Several aspects are affecting public perception of you this week. Namely, the Sun and Mars, which will enter the reputation sector of your chart later in the week. A lot of attention will come your way and it will be up to you how you handle it. The attention will likely be related to your career and/or social media, so there is no better time than now to update your LinkedIn profile or make sure your social media profiles portray what you want them to.
Journal Prompt: What you do can be not as important as WHEN you do it. Timing is everything. List what things in your life have strict deadlines. Now, think about other priorities or pet projects you have with no timeline. What would be the ideal time to start these projects? Mark it in your calendar for the extra push. Mark down what would be the best SECONDARY times to begin your projects.
Venita Johnson is the Assistant Editor for Horoscopes & Zodiacs based out of New York City, who focuses on tarot and oracle card readings.